A new year coming : 2018.Time to set those goals.
Quilting. I was able to accomplish many completions last year. And at the same time created some new UFOs to finish.
Monthly projects
1) Stash Bee: It is modern blocks this year, so it will be a gift for one of my kids.
2) Rainbow Scrap Challenge: I have not decided what exactly; I am between batik half square triangles ( I saw a pattern at Quilt Expo that I purchased. ) or 9 patches.
3) Start and piece a couple blocks per month on Gooseberry Sampler. It is a Kansas Trouble pattern that will look great in gold, green and reds which I have of her fabrics. I hope to use up some of that accumulated stash. I really have wanted to have a Christmas quilt. I love the design and already think that by breaking it down into sections, I could get much of the piecework done by summer and then assemble it then.
4) Do a couple blocks a month for Covered in Stitches, donation quilt project.
5) Bimonthly row by row for my guild. Last month I made a beautiful scene by the water. Current one due by Feb. is ornaments. All I have to do create a couple 12 inch blocks; the owner already made the "chains" from which each row is hanging.
UFOs
This is great for 2 reasons. I get things done that are just waiting and calling my name. My Hoochie Mom quilting group is doing this as a monthly challenge. Killing 2 birds with 1 stone. A win-win.
1) Finish Log Cabin Quilt along
This was started a year ago and sat since March. I have been working on it for 3 months. I challenged myself to do the applique by hand. It is really beautiful in person. It is a Kim Diehl design; I love her rich colors and the combination of patchwork and applique.
2) I have GOT to finish my grandson's Transportation quilt.
He has had his own big boy bed for a year. I started this in May. And I am making my own patterns from internet ideas. I love the bright colors.
3) I just have to do the last clue to assemble the Meadow Mist Mystery.
I am giving this to my daughter She approved the background which is the grunge blue with large dots. I so over ordered it and will have backing for it as well. She loves bright colors.
4) Spring Tulips. My plan is to have half square triangles around the outside edges with a basket of tulips in the center framed by these blocks which I received for Stash Bee.
5) The Dresden Spin just needs binding:
That shouldn't be too hard. Maybe I can even get to it the rest of this holiday.
And so on. I still have some older ones on my side bar and want to finish some of them up as well. The heart log cabins are for my mom. All I need to do is string piece long borders between the hearts on point.
Planned projects: Yes, I don't want to just finish old projects. Just like you and our creative friends, I have fabric and patterns I fell in love with and want to attempt.
Table runner: Christmas for my daughter in law. I purchased it this Christmas. ( Maybe I can even get it done now for next year.) This looks great when it is done and has no patchwork or applique. Plus it matches my daughter in law's kitchen.
Christmas quilt for boys> Podunk Pretties showed this panel to cut up, add more borders, a few extra blocks and there you have it. I also purchased this and some bright fabrics to add to it.
Woolies flannel kit I bought for myself a couple years ago. It is so pretty and would be nice for my living room.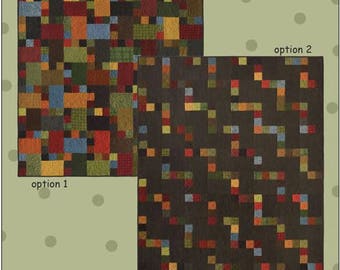 And of course, I will spontaneously come up with more.
I like making donation quilts. I have a bag of red/ white/ and blue strips to make a Quilt of Valor.
I have a top pieced ready to be quilted also for another donation quilt.
There are a couple of bags of scraps left over from baby quilts to make NIC unit ones. 36 x 36 in.
Also a huge bag and drawer of homespuns to create with. It would be easy to replicate the one I did last year
I can always find things to sew. So I know I can get sidetracked and inspired.